You might be confused thinking that how the Grasshopper can teach you how to code. But today I 'm not talking about the insect Grasshopper. Google employees have launched a new app named 'Grasshopper' which teaches you to code as a programmer. It is a free mobile app for both Android OS and iOS.
This Grasshopper is the latest production of Area 120, which provides Google employees a chance to work full-time on their side projects.
Grasshopper basically teach you about JavaScript, HTML, CSS, algorithm and web designing for free. This is a beautifully designed app where any one who has a smart phone on their own can use it. It gives you simple challenges and quiz questions for you to give answers.
This app is a gamified app which was named after programming pioneer Grace Hopper. It consist of three sets of lessons. They covers the fundamental lessons of coding such as calling functions, using variables and objects etc. and also about animations. If you spend a few minutes in a day with the app, it reminds you to hop in daily and come up with the solutions foe few challenges given to you by the Grasshopper.
If you are done with the whole content of the Grasshopper, then you can move on to the recommended Coursera classes to learn further about JavaScript, HTML, CSS, algorithm and web designing for free. Or else you have another option to proceed. That is you can play around the Grasshopper's Online Playground and make your own JavaScript animations.
If you are a person who wish to learn coding, you better use this app on your phones and play with it. This is a quick way to learn coding for the code lovers. I believe instead of scrolling up and down in social medias mindlessly and purposelessly this is the best way to improve your skills on coding on your phone itself.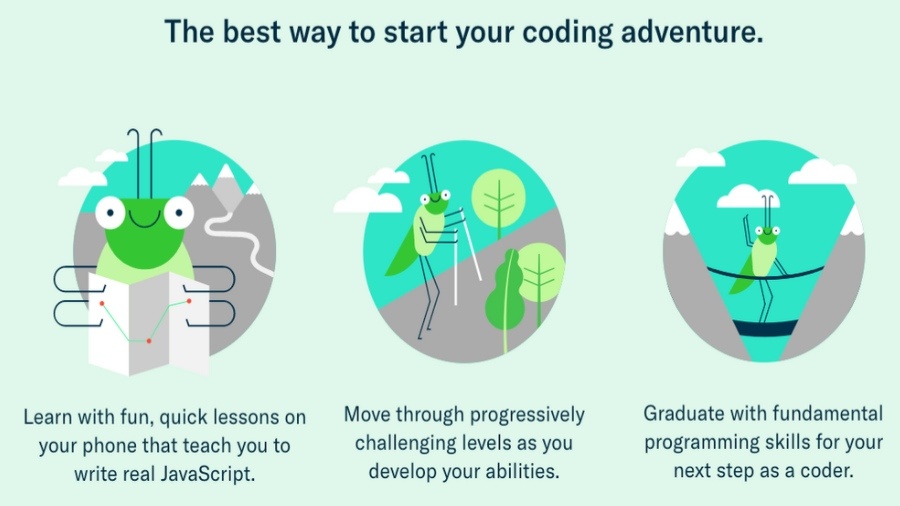 click here for more info..