Google's annual consumer hardware event took place today in New York City yesterday, and a collection of new Google-branded products were introduced. I'm going to take you through the trio of devices that was unveiled in a snap. If you look close, you will see how all of these devices are in the intersection of AI, software and hardware.
Google Home Hub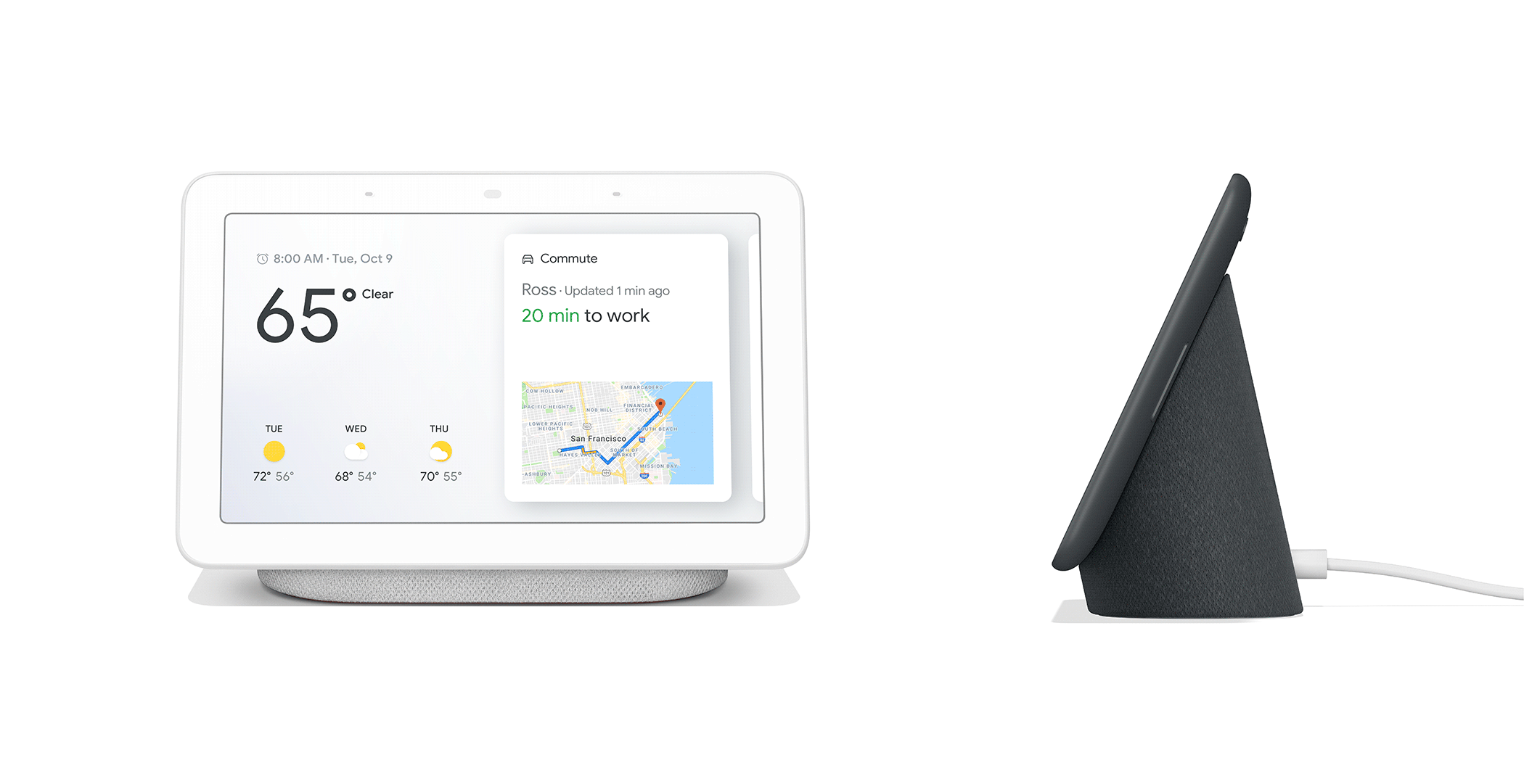 Essentially a "Hub" for the smart home, Home Hub makes it possible to control everything inside of it from light bulbs, TVs, Speakers, Thermostats and even the door locks. Integrated with Google Assistant, you can do it all with just your voice, and you also have the option of using the screen. Home Hub allows you to see to each of the rooms inside of your home, or you can go to Home View with just a voice command or a quick swipe from the top edge downwards, which is sort of a dashboard where the status of the entire home is shown and the ability to change it is given in one place.
With no cameras added, Home Hub doesn't invade your privacy, and you can be quite comfortable with it around anywhere in your home. Another nice thing about the device is the feature called "Ambient EQ," which responds to the ambient lighting in the room it is placed. This makes the screen brightness and colors be fine-tuned according to the natural light change during day and even the indoor lights in the evening. At night it won't disturb you with another glowing screen either. All of this makes Home Hub blend in seamlessly with your home surroundings no matter what time of day it is, and even what your home décor is.
If you are not near Home Hub, the Google Home App can now act as the mobile controller of hub. This means you can control the status of your home even if you are not inside of it. But this is not all, with deep integration with Google Photos, it can also act as a fantastic photo frame.
Google Assistant inside Home Hub is also able to recognize different people in your family and give a personalized experience for each of them. At the end of the day, once you wish her good night, she would lock your doors, adjust the thermostat, turn off the TV and even dim the lights for you.
Pixel 3 & Pixel 3 XL
With OLED screens of 5.5 and 6.3 inches respectively, the two Pixel-branded smartphones has some sophisticated looks  with a glass back with a matte finish. However, this device seems to be all about its cameras. Dubbing it as the "world's best camera," Google has actually used a lot of smarts in it.
With Top Shot, it basically catches a burst of short exposures and then combines them all algorithmically to create a brighter, crisper and more detailed and colorful image. And you are never going to be with your eyes closed in any of your photos, because the camera's intelligence allows it to recognize the best moment to snap the pic, you don't have to strain yourself to do it.
There's also no need to use flash at night to end up with those photos of unnatural looking blinded people, because of the Nightsight feature. And Group Selfie catches 184% of the background behind you when you zoom-out, so no straining to fit everyone in the picture either. And then comes the Playground mode, which enables you to have characters such as superheroes in the background with you for a pic.
Apart from the camera, another remarkable feature this time on Pixel is the Callscreen. This is something where you tap the Screen Call button when your phone rings, and the phone answers for you and converses with the other end at first, all the while transcribing the chat in real-time, so you can choose to either pick it up yourself, send a quick reply, or to mark it as spam.
And turning the phone upside-down gives it the hint not to distract you, thus muting sounds.
You buy the wireless charger for the phone, Pixel Stand separately.
Pixel slate
Running on ChromeOS, Pixels Slate is a device with a detachable keyboard, which can be used both as a desktop workstation and a handheld tablet. What's special about Pixel Slate is its screen, which is 12.3 inches with a pixel density of 293ppi, using low temperature silicon technology, which helps with the vibrant colors that it can display.
The device has got speakers on the front of it, so that the stereo sound is directed toward the user. It is also loaded with other features like rear and front cameras, sensors for low-light performance, ability to multi-task with the split screen, built-in virus protection, automatic updates and also Google Assistant, integrated even deeper. The power button also acts as a fingerprint sensor, thus can save you the time of typing passwords.
You can purchase the Pixel Slate keyboard separately, which needs no charging or pairing. You just snap it into the slot-like trim and you are good to go. The keyboard is backlit in the dark, and the keys are round and hush, making for a quite keyboard. After you are done, you can turn the folio into a slim, protective case.
So that is it about the newest members to the Google family. You can visit the Google Store to find out more about the pricing and availability of the devices, and make sure to watch the live stream of the event here, and if you are in a hurry, just watch the recap video down below:
Images courtesy of Medium, 9to5google and Google Store